Compact Scout Backpackable Survival Bow (arrow sold separately)
Scout Compact Backpackable Bow
THE QUESTION
A backpackable bow? Aren't there plenty of takedown bows that fit into a backpack?
Well, not quite. In fact when you start looking at which backpacks most people use and how long takedown bows actually are, you realize that the Scout is another unique bow to our range specifically designed to fit INSIDE a backpack. It requires no tools to setup or maintain, accepts sights and quivers and is the world's most compact 60" archery bow.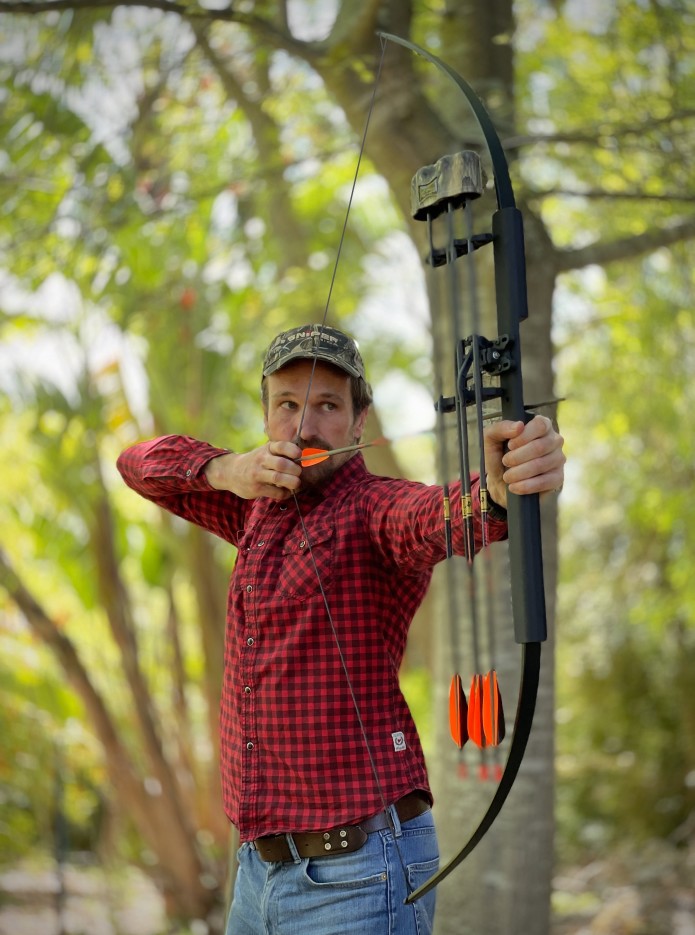 The Scout Compact Pack Bow shown with optional quiver mounted.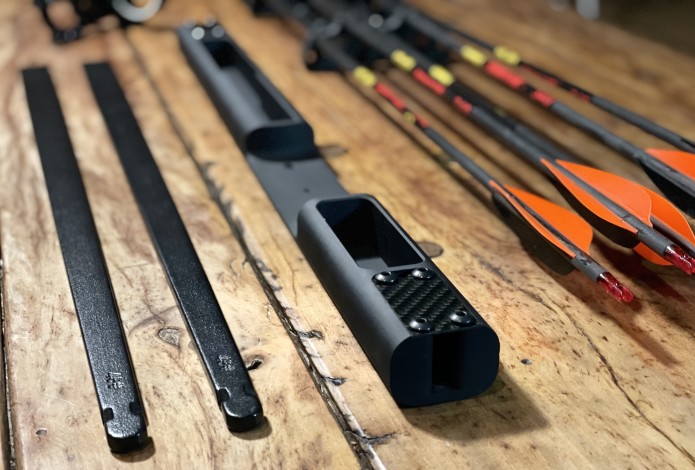 The Scout Compact Pack Bow packs down to just 22".
THE CHALLENGE
With the huge popularity of our current Survival Archery Systems folding and compact bows and numerous requests to design yet another bow that can accept sites and other accessories, but at a more affordable price point and with improved ergonomics; we decided to design a bare bones backpackable takedown bow that packed down smaller than anything on the planet, yet still allowed for draw lengths of up to 31". We wanted pure simplicity and we believe we found the perfect solution.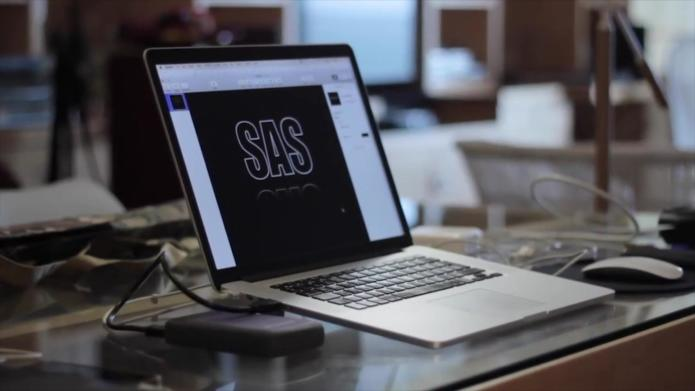 Survival Archery Systems was established in 2014 and currently manufacturers all its bows in Lexington, Kentucky, USA
The challenge, as with our Ranger bow, was to develop a bow that could pack down into a small 22" backpack, yet was long enough when assembled that it did not stack, was cheaper to manufacture and that had superior durability. We also wanted it to be even more compact in design than our previous bows.
We started the design by employing the same design principles used on our other bows with regards stacking; as this allows for the greatest amount of users. Stacking is a phenomenon whereby a bow's draw force curve is smooth in the beginning of the draw and then suddenly shoots up at the end, making it almost impossible to draw it back further. This typically happens when a bow is too short for the archer or when the limb to riser ratio is incorrect.
For a bow to not stack for taller archers, it needs to be about 60" in length or longer. And to get a 60" takedown bow into a 22" backpack is where the big design challenge comes in.
Why is 22" such an important dimension for "backpack-ability"? 
Well, most outdoorsmen prefer to carry 1-day or 3-day packs into the field. These packs are about 22-23" in length and are easier to move around with especially when on the hunt.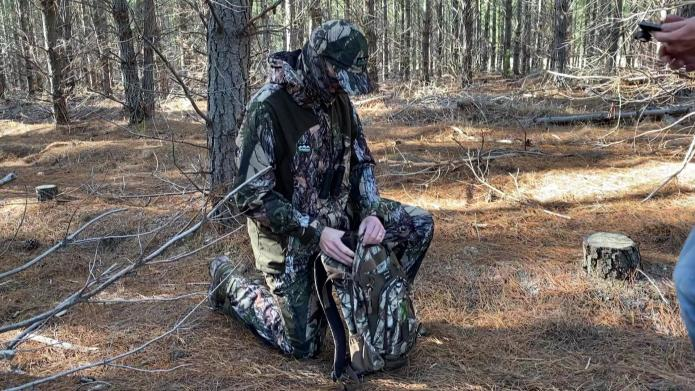 A standard sized one-day backpack used by many hunters.
Our research showed that there are currently no 60"+ bows on the market that can fit into this length of backpack other than those already offered by our company, Survival Archery Systems, which was founded back in 2014 and continues to produce bows in Kentucky, USA even during the COVID-19 pandemic. Some other bows come close, but the limbs are around 24-26" in length when taken down and just don't fit. Bows with 22" limbs are typically shorter than 56" total bow length and therefore stack fairly quickly when used by taller archers.
Another important thing to consider is that most recurve limbs are not very compact nor robust when thrown around in a pack. As you will see later, we overcame the need for using a recurve style limb to reduce stacking by using a hi-tech, straight, deep flex composite fiber limb that allows for a smooth draw and an efficient stroke and is super strong to boot. Deep flex is something traditional materials are just not as good at.
So with the right riser and limb design together with our time tested materials we had the basis we needed for our new bare bones survival bow. The rest was just putting the right features in the right places to fulfill our design criteria.
And don't worry about arrows being too long to pack either, as we have a solution for that too with our awesome takedown arrows we have been selling since 2014.

Survival Archery Systems Takedown Arrows
THE DESIGN CRITERIA AND SCOUT TAKEDOWN SURVIVAL BOW DEVELOPMENT
So our lead engineer got to work designing the new bow. Coming from 15 years in an automotive design and development environment and having already developed 4 compact bows for Survival Archery Systems he tackled this engineering project using the same design principles employed there. Here are the design criteria he set.
Design Criteria
Be smaller in volume than all current SAS bows.
Be made in the USA
31" Maximum draw
Be ambidextrous
Must not stack
Fit into a standard 22" (559mm) backpack
Weigh between 2.5 and 2.9lbs (1,14 and 1.32kg)
Be durable
Be corrosion resistant and weather proof
Accept sites, quiver and arrows rests
Be shot with fingers or a release
Be shot off the shelf or off an arrow rest
Shoot quietly
THE SPECIFICATIONS
After all was said and done and the first prototypes came off the production line we ended up with a bow that met all our design criteria and we were happy with every aspect of it. It had surpassed our expectations.
The final design is a riser and limb set that both measure 22" and fit into most standard day-packs. Our bows will be manufactured at our factory in Kentucky, USA and will use corrosion resistant components throughout. The total package weighs in at around 2.8lbs (draw weight dependent) and is able to accept sites, quivers and arrow rests using the ATA standard for mounting and threads.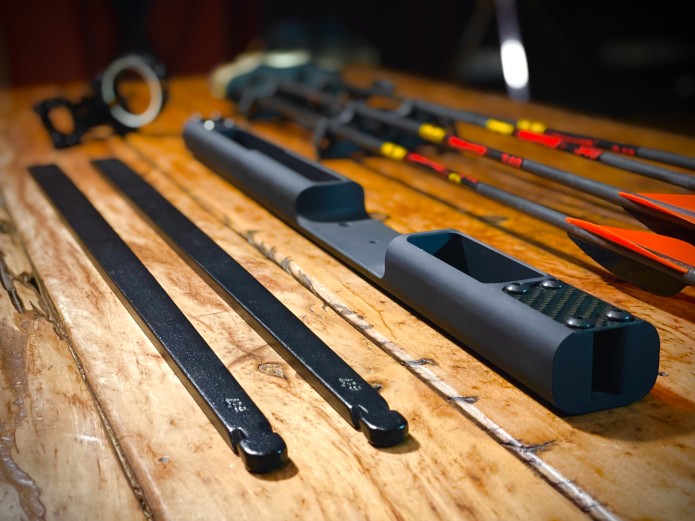 The Scout Compact Pack Bow - Aerospace grade aluminum riser, hi-tech composite limbs, carbon end plates and 316 stainless steel screws (accessories shown not included).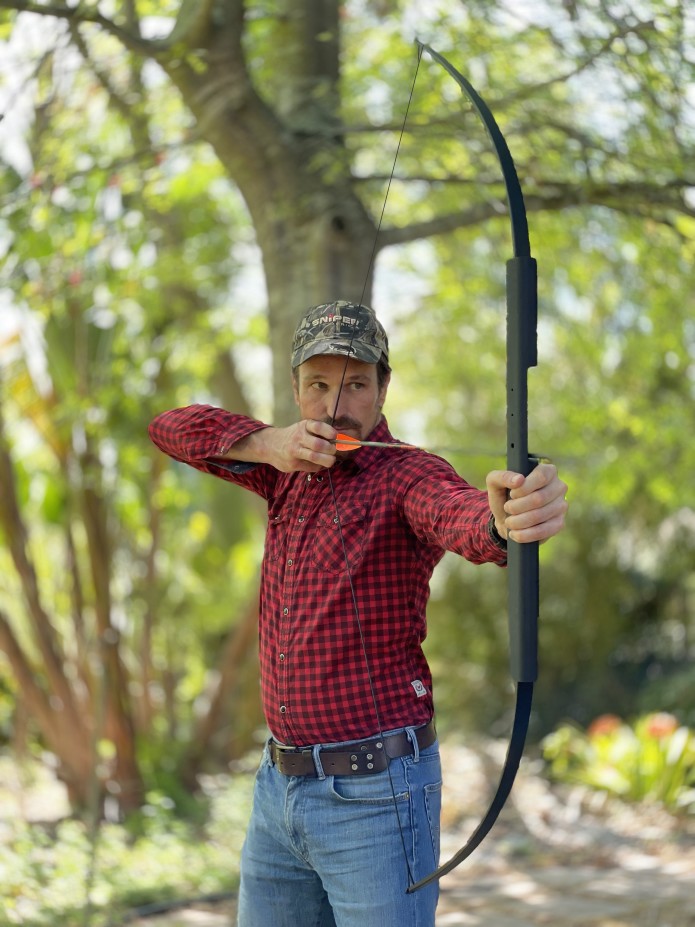 The Scout Compact Pack Bow at full draw.
The riser is made from an aerospace grade T6 aluminum and can be shot both left and right handed simply by swapping the limbs around prior to stringing. Our structural simulation software, Creo, has shown that the riser is theoretically capable of "lasting a lifetime" unless you are capable of shooting many millions of shots in your time. The below image shows one of our structural computer simulations of a bow at 31" draw and over 70# of draw force. The colors indicate that this bow sees low stresses when compared to the strength of material chosen for the final production.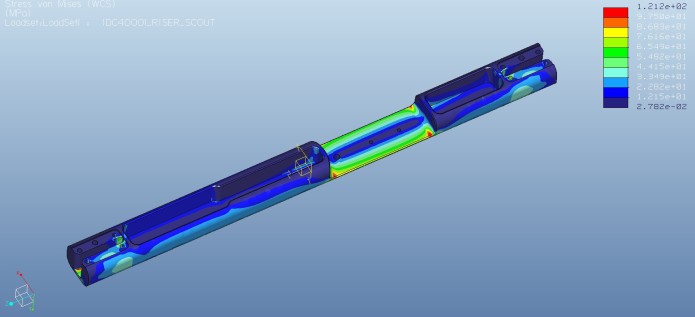 Finite Element Analysis run using our advanced structural software showing low stresses under extreme draw force.
The limbs are made from the same high-tech composite material that we have been using since 2014 and that are also used on most US made compound bows in the market. To date we have (touch wood) not heard of any of our limbs failing in the field. Note: These special limbs must be used together with an endless loop B-50 Dacron string so as to fit correctly into the string groove on the rear of the riser. Our limbs are not compatible with flemish twist or other larger diameter strings.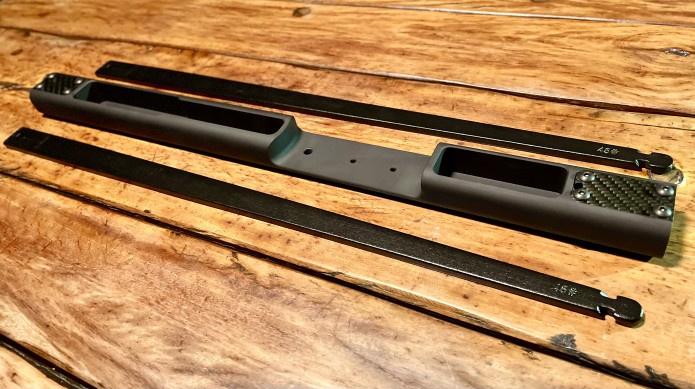 The Scout's limbs are manufactured using a US made hi-tech composite material we have used since 2014 and which can be found on many of the US made compound bows on the market today.
The final specifications can be viewed in the table below.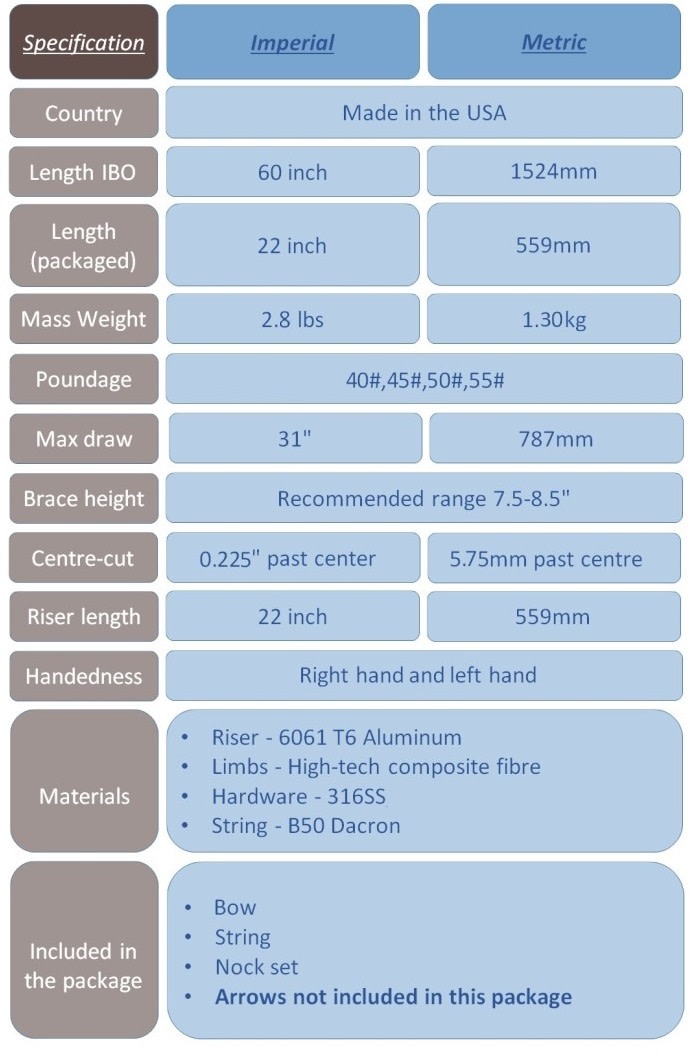 Scout Specifications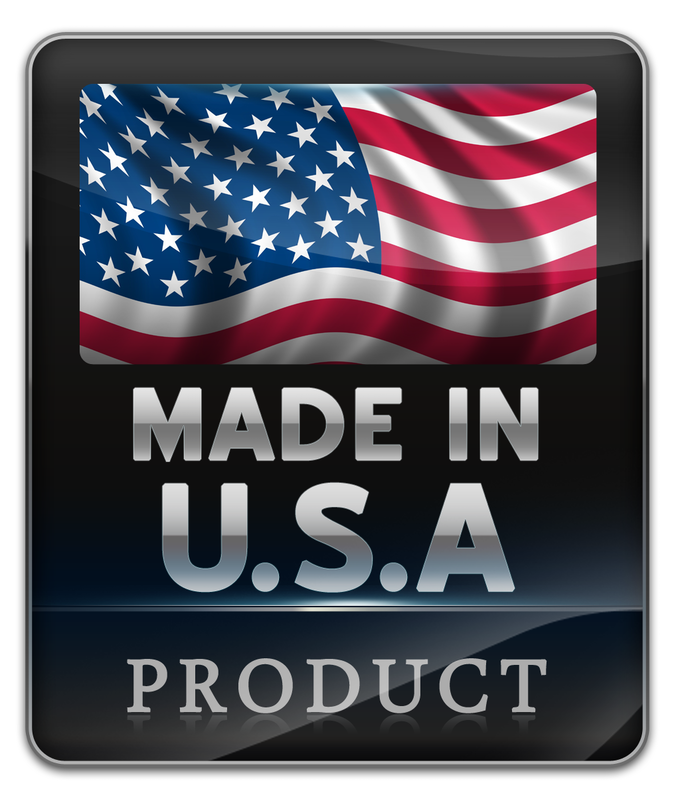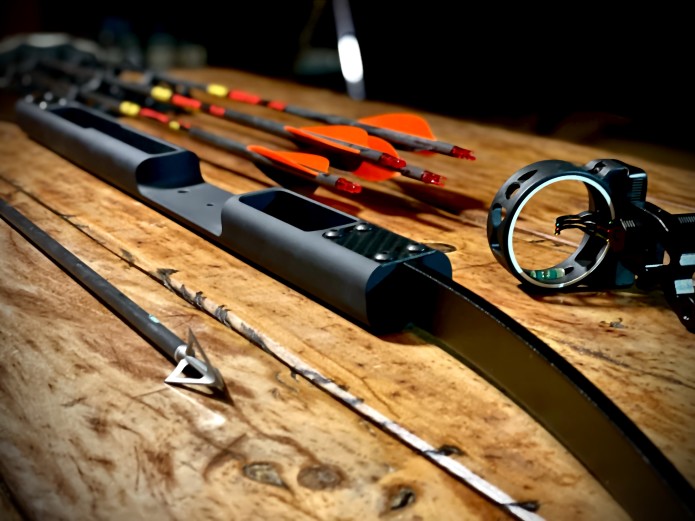 The Scout Compact Pack Bow showing some with some of the accessories that can be used with the bow. Accessories are sold separately and are not included with the bow.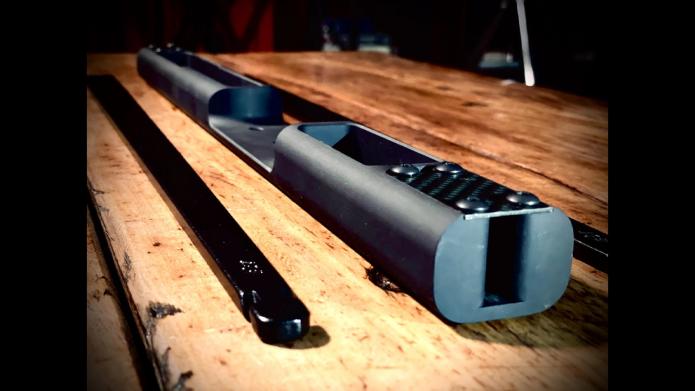 The Scout Pack Bow
STEP 2. Add extra accessories to your order by choosing the perks just before checking out. The accessories page also scrolls to the right for more options.
The Scout Pack Bow riser and limbs (accessories not included with bow)

AVAILABLE POUNDAGE OPTIONS
We have only 4 poundage options available: 40#, 45#, 50# and 55# all measured at 28" draw. Every person is different and the poundage you choose will depend on a number of factors including your height, strength, level of fitness, years of archery experience, etc. We do not offer lower poundages as those are typically more orientated toward target shooting and are not effective hunting poundages.
Here are some general guidelines to help you choose your poundage if you are totally new to archery.
Accuracy is the goal: This may sound silly, but what we mean by this is that everything you do in archery must allow you to shoot accurately. So when choosing a bow the first thing to consider is which bow poundage will allow you to shoot the most accurately. The answer to that is somewhat simple, but also somewhat complicated.
Don't try be a hero (even though you may already be one): Archery is more about consistency than brute force. A heavier poundage bow does not always mean a better and more accurate bow. The most accurate poundage is the poundage you can comfortably hold at full draw without straining and shaking. The less you strain and shake the easier it is to hold your shot on target and the more consistent you will be.
A lower poundage allows for better form: The lower the poundage the easier it is for you to develop correct form and technique. And the better your form and technique the more accurate you will be. If your poundage is too heavy then you may develop poor form from using incorrect muscle groups to draw your bow and that will affect accuracy too.
Draw length: Lastly, bows are rated at 28" of draw. That means that a 50# bow will have a force of 50# on your finger when you draw the bow to 28" measured from 2" in front of the throat of the grip (more or less the front of the riser). A good approximation for draw length can be found by measuring the distance in inches from fingertip to fingertip with your arms stretched out either side of you and then dividing that measurement by 2.5. If you are above 28" you have a longer than average draw and below you have a shorter than average draw.
If you have a longer than average draw you will pull the bow back further than a shorter draw archer. A longer draw archer will therefore experience more force than a shorter archer with the same poundage bow. It is for this reason that we suggest that longer draw archers new to the sport err on the side of caution and choose a lower poundage than suggested for a medium draw archer.
On the same note a shorter draw archer will draw the bow less and therefore experience less force than a medium draw archer. So, he may be able to go a little up on the poundage.
At the end of the day it is important for you to choose a poundage that works for you and for the activities you choose to enjoy with your bow. If you are able to get to an archery store and try out a recurve or longbow to help you decide then that would be ideal. Don't get your poundage for a compound bow though, as a compound bow is totally different because it has "let-off" at full draw; which means a compound bow of a similar rating is much easier to hold at full draw than a longbow or recurve bow. If you can't get to a store, then here is our very broad guideline to help you choose. This is for archers of a medium height corresponding to the weights given here.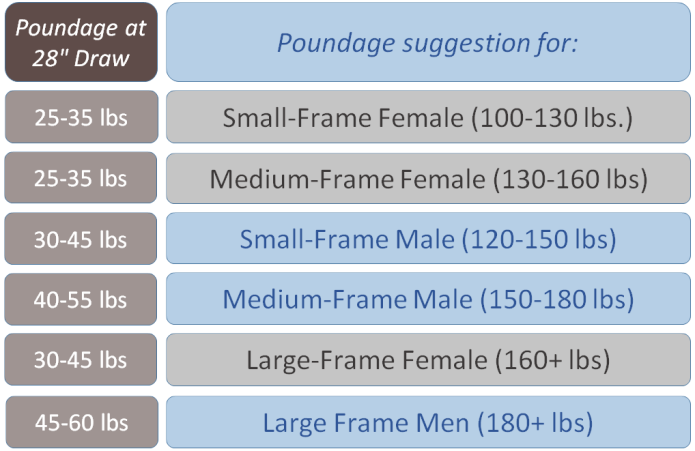 Scout Ballpark Poundage Suggestions
SAFETY NOTE: We strongly suggest you make use of an arm guard and a finger tab or shooting glove to protect your fingers from string friction and your forearm from string slap. And of course, ALWAYS WEAR SAFETY GLASSES WHEN ENJOYING ARCHERY.
LONG LASTING DESIGN
We have designed the product using advanced structural software to ensure the product only experiences stresses below its material fatigue limit and thus it is deemed designed for what engineers call "infinite life". Using the same design principles and trusted software I used during my career as an automotive design engineer I have created a product that is both safe and durable. To date, we have not received any warranty returns from our current archery products since our company launch in 2014 and trust this product will show the same success.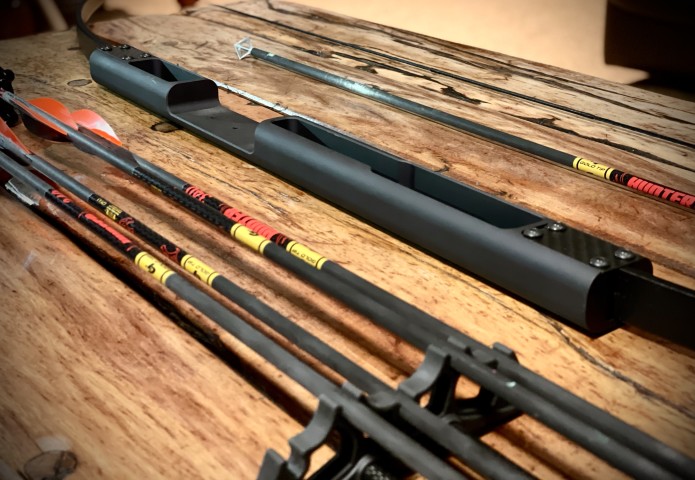 Scout Pack Bow - Allows mounting of sites and quivers (sold separately)