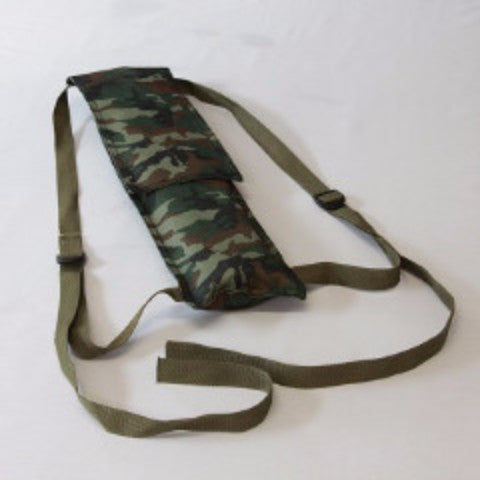 SAS Camo Carry Bag to Fit SAS Folding Survival Bows
WE NOW ALSO HAVE A LOCAL FULFILLMENT CENTRE  IN AUSTRALIA AT www.survivalarcherysystems-australia.com.
Please note that the camo pattern may differ from the photo supplied.
The same camo carry bag that ships with our SAS Recon Survival Bow featuring:
A strong nylon fabric to protect your bow from scrapes and scratches during transport.
Quick-adjust backpack carry straps that allows you to use the bag as a backpack for your bow or as a simple quiver for your arrows.
A fully sealed storage compartment for spares such as string, arm guards, finger tabs, etc.
NOTE: The Recon carry bag is not designed nor ideal for the Atmos and Ranger bows, however the bows will fit inside this bag for those customers who would prefer to have something rather than nothing. Note that due to single compartment nature of the bag that limbs and riser will rub against each other which may cause wear on the parts hence it not being a proper solution for the Atmos and Ranger bows. Buyer to use this bag at own risk of parts wear on the Atmos and Ranger bows.